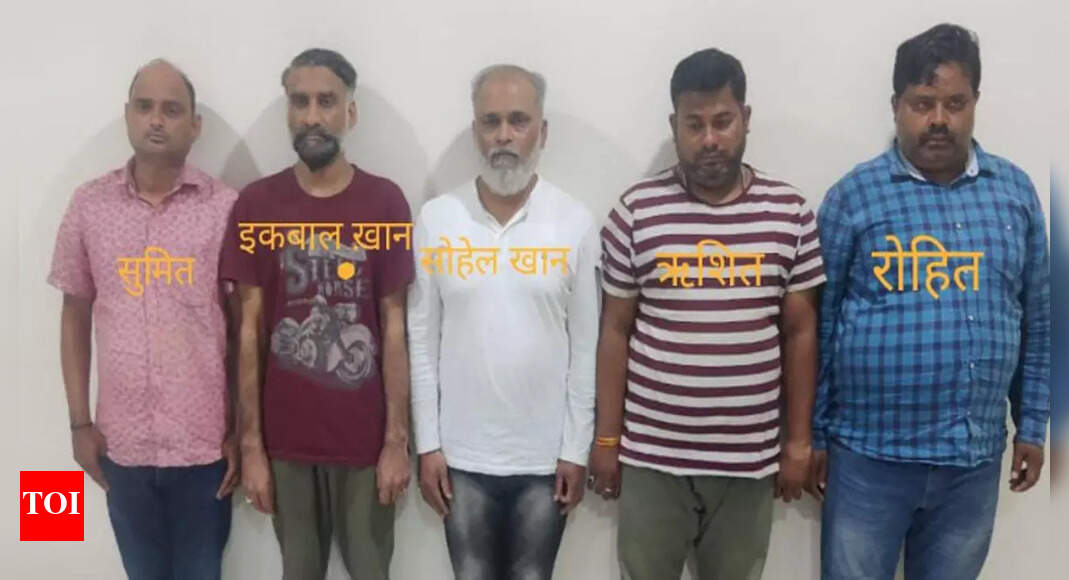 Lucknow: Five Arrested for Cheating Banks and Financial Institutions | Lucknow News
The defendants were identified as Sohail Khan (gang leader), Iqbal Khan, Rishit Srivastava, Rohit Srivastava and Sumit Sharma.
LUCKNOW: Five disbelievers were arrested for deceiving banks and financial institutions by impersonating them and submitting false documents by an STF team from Lucknow on Wednesday.
The accused were identified as Sohail Khan of Hasanganj (gang leader), Iqbal Khan of Bazaarkhala, Rishit Srivastava of Thakurganj, Rohit Srivastava of Talkatora and Sumit Sharma of Hasanganj.
The team recovered eight cell phones, a laptop, rubber stamps and other documents, checkbooks and two SUVs.
"It appeared that Gang Leader Sohail who is from Kanpur had previously worked with different private banks and had a good working exposure on loan and credit card issues. He had worked for ten years and used the experience to dupe private finance companies and banks," said Vishal Vikram Singh, Additional Superintendent of Police, STF.
During interrogation, the mastermind said that he had fabricated many forged documents on fake addresses in the name of Guddu Khan. This improved rating (credit limit) by taking many small loans under Guddu Khan's name to get good credit limit from financial institutions, STF said.
According to the STF, the accused met in 2017 a builder identified as Salim who gave the identity documents of his partners Fahad and Irfan by agreeing on a 30% reduction.
"After which Sohail groomed two youngsters like Fahad and Irfan and by obtaining their coded IDs, created a fake register of the same apartment/plot in their (originally) names and secured loans on the same property ", said the STF.
A loan of around Rs 70 lakh was given out of which around Rs 15 lakh was given to Salim and the remaining amount was distributed. Likewise, 47 loans were taken by the gang preparing fake records and documents.
FOLLOW US ON SOCIAL NETWORKS