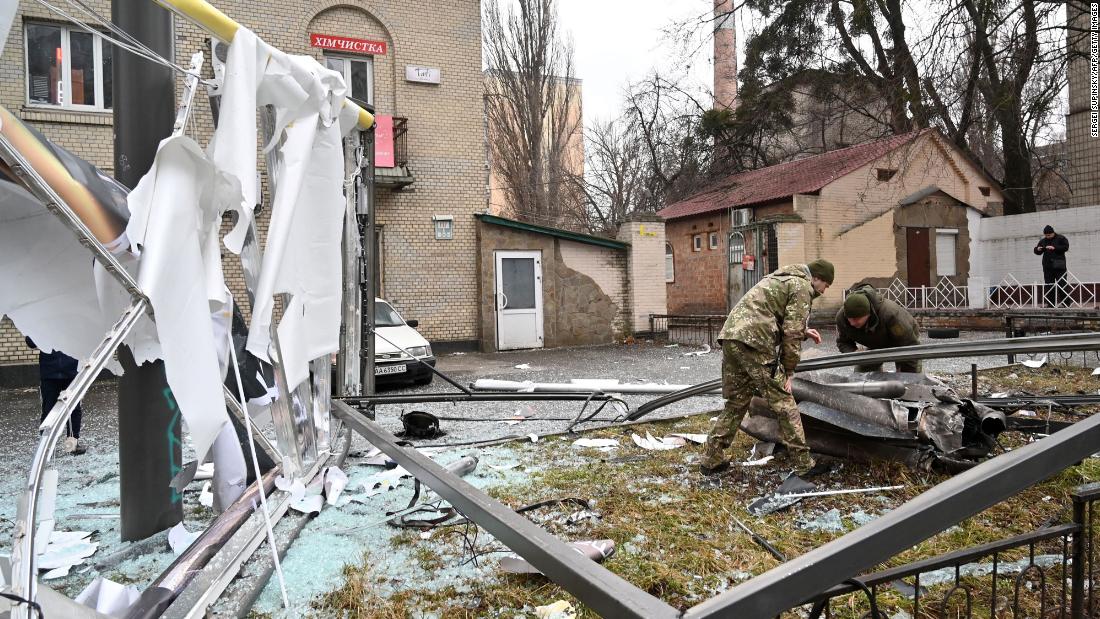 Russia launched 'more than 160 missiles', says senior US defense official
Tensions between Ukraine and Russia have escalated after Russian forces invaded Ukraine from three sides, while explosions rang out in several cities, including the capital Kyiv, in a massive attack that began Thursday before dawn. The West has condemned Russian President Vladimir Putin for this invasion.
What happened overnight
CNN crews heard explosions in and near several Ukrainian cities, including Kyiv, Kharkiv's second-largest city, Odessa, and distant gunfire from Zaporizhzhia. Footage released by Ukrainian President Volodymyr Zelensky's office showed large explosions east of the capital Kiev with huge columns of smoke rising into the air.
Ukrainian officials said more than 40 soldiers and up to 10 civilians had been killed since the Russian invasion of Ukraine began shortly before dawn.
Protests erupt in Russia
Russian riot police were urging protesters to leave Pushkinskaya Square in Moscow. CNN's Nic Robertson and his crew on the ground saw people being detained by police. Some carry signs with messages, including several signs saying "no to war". Russian authorities warned citizens on Thursday that participating in anti-war protests could lead to prosecution and criminal charges.
At least 1,675 people were arrested in anti-war protests across Russia today, including at least 919 in Moscow, according to independent monitoring group OVD-Info.
Russian forces have taken control of a Ukrainian air base near Kiev and the Chernobyl nuclear power plant
Russian forces have taken control of the Chernobyl power plant in northern Ukraine, the site of the world's worst nuclear disaster, according to the agency that manages the area. Troops invaded the factory on the first day of Russia's multi-pronged invasion of Ukraine, a spokesperson for Ukraine's State Agency for the Management of Exclusion Zones, Yevgeniya Kuznetsova, told CNN. .
Russian airborne troops have taken control of Antonov Airport, located about 40 km from the center of Kiev, Ukraine, CNN's Matthew Chance reported Thursday. "Helicopter troops were landed in the early hours of the morning to create and execute an air bridge to allow more troops to enter," he reported.
US announces sanctions against Russia
US President Joe Biden said on Thursday that the recently announced sanctions against Russia for its invasion of Ukraine will take some time to be fully felt by Russia and its economy. The president also said the sanctions were key to sending a message to Putin. "If we don't act on him now with these significant sanctions, he will be emboldened," Biden said.
Read the full list of all US sanctions against Russia here.
World leaders consider additional actions
US President Joe Biden said he agreed with other G7 leaders "to move forward with devastating sets of sanctions and other economic measures to hold Russia to account".
The United Kingdom is set to sanction 100 people and entities as part of new sanctions against Russia, British Prime Minister Boris Johnson announced on Thursday afternoon.
In a speech to the UK Parliament, the Prime Minister said the UK was announcing "the biggest and toughest sanctions package Russia has ever seen".
European Union leaders have considered what some call the "nuclear option" of removing Russia from SWIFT, a high-security network that connects thousands of financial institutions around the world, following the invasion of Ukraine.
US President Joe Biden said Thursday that pulling Russia out of SWIFT is not the direction the rest of Europe wants to go right now, but noted that pulling the nation off the network is "always an option."
Looking for more details? here is a timeline of how things went.